Building Resiliency Skills

Presented By Paul Lewis, RCC, CCC
Friday, April 27th, 2018
Time: 9:00 am - 3:30 pm
Doors Open / Coffee: 8:30am
---
About This Workshop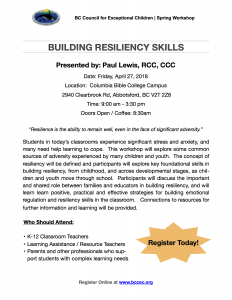 "Resilience is the ability to remain well, even in the face of significant adversity."
Students in today's classrooms experience significant stress and anxiety.
This workshop will explore key foundational skills in building resiliency, from childhood, and across developmental stages, as children and youth move through school.
Participants will learn positive, practical and effective strategies for building emotional regulation and resiliency skills in the classroom. Connections to resources for further information and learning will be provided.
---
About Our Presenter
One of the co-founders of Lifted Counselling and Consulting, PJ is a Registered Clinical (RCC) and Canadian Certified (CCC) Counsellor. PJ has particular expertise in providing individual, group and family treatment to high-risk youth and families experiencing concerns such as suicidality, self-harm, emotional dysregulation, impulsivity, depression, anxiety, trauma, psychosis and addictions.
PJ focuses his practice from an interpersonal approach with thoughtful integration of cognitive and behavioural, skill-based strategies. As a skilled speaker and consultant, PJ has presented at numerous forums, workshops, and conferences locally, nationally and internationally providing consultation and skill-based trainings for parents, educators, counsellors, and health care professionals.
---
Who Should Attend
K-12 Classroom Teachers
Learning Assistance/Resource Teachers
Parents and other professionals who support students with complex learning needs
---